When you begin planning a big renovation it tends to dominate your thoughts and a lot of your conversations. Renovations can be very stressful and very expensive and everyone has a story to tell, if not their own then a friend's story or one they heard about.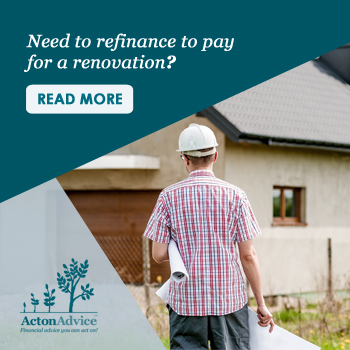 People don't always agree though, so for every person who has had a bad experience with a product, there's someone who loved it. So, how do you know what's right for you? Here are a few things to think about:


Bi-fold doors
Will you actually use them or will a simple sliding door do? Often people find that bi-fold doors are better in theory than in practice, only ever using them a couple of times a year when they have a party or large family gathering.
Do you have to keep anything in or out such as flies, pets or a crawling baby?
How will you ensure you get some fresh air into the room without having to leave the whole door open? Which way does the wind blow? Can you still catch the breeze without a gale blowing through your house or a drizzle coming in?
Do you live in the right climate to enjoy bi-fold doors for a decent part of the year? If you're in Brisbane you could leave the door open all day, but in Melbourne, Canberra or Tassie, weather will influence how much use you get out of them.
Another consideration is that after a couple of years the structural movement or settlement of the house may affect how easy it is to open the doors.


Bathroom trends
Do you have the space to carry off a Japanese wet room or open style bathroom without it feeling claustrophobic? What will this mean for cleaning? Think of cold Canberra winters, will an open shower without any doors be warm enough?
With frameless shower screens, are there any gaps around the door that let water through when you shower?
How often you are likely to enjoy the full spa experience of a giant corner spa bath or deep stretch out tub? You could land up with a tub that uses far too much water, takes ages to fill and by the time you get in the water is already getting cold. There are also the mobility issues if you are planning to live in the house into your old age.
How much do you really want to share and is it a good idea to forego a bathroom door on the ensuite?


Open plan
How much open plan works for your family? A big kitchen-dining-living room space may create a beautiful light-filled atmosphere, but it's not that practical if all the bedrooms lead off of it and you can't watch the television or boil the kettle in case you wake the children.
What areas need privacy and containment of sound? Every family member will at some point need a quiet space and open plan can be an introvert's nightmare. It's also important to think about things that might be happening simultaneously, for example watching TV, running the dishwasher or cooking.
What is the natural flow of traffic in the home? You don't want your living room to be the thoroughfare to other parts of the house. Are there areas where you would benefit from being able to close a door?
Think about how you entertain, is there enough room for a dining table for Christmas lunch?


Flooring
Changing your flooring can be a major hassle – have you selected something that will last and has been installed properly?
How easy will it be to keep clean?
If you have pets, will it scratch easily or show pet fur?
In the kitchen, will it be comfortable to stand on for a period of time while preparing food? If you drop something will it break, chip or stain?
How warm or cold will it be underfoot especially in winter?
Will it impact on any family member with allergies?


Windows and window coverings
If you've decided on curtains, have you made them wide enough so that when they are opened the whole window is in view?
If you've decided on unusually-shaped windows or a tilt and turn window system, have you sourced appropriate window treatments for them?
How easy will it be to clean and operate the window treatments you have selected?
If you've chosen awnings, can they attach to your house?
Thinking about bay windows? Remember, window treatments can cost more as there are 3 panels, both internally and externally (if you have roller blinds). Placement of furniture can also be a problem.


Don't underestimate storage space and power points
Have you physically walked through your house and worked out where it would be practical to have switches and power points?
Have you got enough storage space for bigger items - roof space, under floor space, garage, shed?
Extra storage or place to hoard.


Evaporative or refrigerated air conditioning
Have you selected the right air-conditioning system for your climate? If you live in an area where the heat is dry then evaporative cooling can be very effective. However, in more humid parts of Australia, evaporative units can exacerbate the humidity in the home with minimal cooling effect.
Also don't forget about the placement of vents and the impact that has on where you can put furniture.


Kitchen benchtops
White marble benchtops, great to look at but will they stain easily? Marble is delicate and needs to be cared for properly.
Have you thought about the pros and cons of polished concrete benchtops? Raw concrete is porous and will need to be sealed or polished to prevent damage and staining. The edges can also be prone to chipping.
Bamboo or butcher's block adds to the rustic feel of a kitchen, but can scorch and will need sealing.
Island benches can look beautiful in the kitchen; however a sink full of dirty dishes will detract from even the most beautiful tapware. What are your family's dishwashing habits and is an island bench with sink, the best for you?


Finishing touches
Will you ever really use a built-in bar?
Landscaping can really round off a renovation project, have you allowed enough money to do it properly. A good landscape design with well constructed levels and retaining walls, as well as well-placed feature plants will stand the test of time and can save on drainage issues and run off.


Underestimate your tolerance for disruption
Move out and do it in one shot or renovate bit by bit? Do you understand your family's tolerance for the disruption that comes with any renovation project?
Is anyone in the family asthmatic? How will you manage the dust associated with renovation?
Is this a retirement job, a handy hubby or will you be getting in the professionals? It's important to know your limits.


The regrets people have about building and renovating are very individual and are often related to how they live. If you enjoy a long bath after a stressful day, then skimping on a tiny bath is going to inevitably be a source of regret; whereas if you prefer showers and rarely bath, you may wish you had put in a larger shower. Consider how you live and what you need from your home before planning any renovation.
Refinancing your home loan to afford the renovation you really want can help avoid regrets down the track. Every household is different, so speak to an ActonLendingSolutions mortgage broker about your needs. They can discuss your current property value and the home loan options available that will meet your needs.